Wave Tool: The Ultimate Soft Tissue Release Tool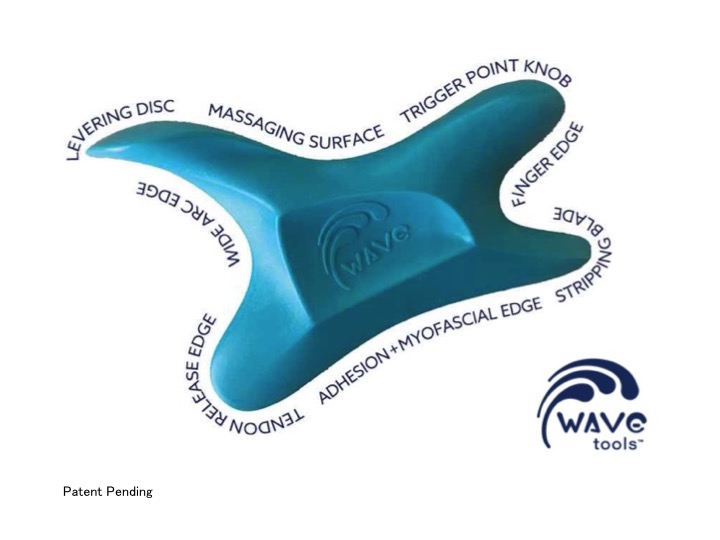 Wave Tool: The Ultimate Soft Tissue Release Tool
Designed by 2 Physical Therapists with decades of treating climbing injuries, mountain guiding, and living the climbing life.
About the product
The unique combination of myofascial massage surfaces and IASTM edge technology effectively treats myofascial pain, restrictions, and adhesions.
The 3D ergonomic grip design increases user tactile sensitivity while decreasing hand strain
Used for treatment of a variety of conditions including elbow tendonitis, plantar fascitis, finger pulley and tendon issues, patellar tendonitis, IT band syndrome, adhesions, muscle strain, myofascial pain.
Multiple treatment edges for treating a variety of climbing related injuries.
Wave Tools, LLC was formed by athletes and therapists inspired to develop innovative, superior physical therapy tools. After working with a variety of other Gua Sha and IASTM tools on the market, it became apparent there was a need for a more ergonomic, three dimensional, versatile, and effective tool that both the professional and the individual could use to treat injury and pain. Thus The Wave Ultimate Soft Tissue Release Tool was born.
It began as a home-grown project: Initially molded out of clay, casted out of plaster, and then prototyped. After years of reworking and field testing, we came up with the best balance of size, form and function, as well as durability and cost effectiveness.
The all-in-one tool
The Wave ultimate soft tissue release tool was designed by physical therapists and professional athletes to be the most effective all-in-one tool for treating myofascial restrictions, adhesions, scar tissue, neural restriction, and muscle tension.
Tips for self-treatment
Ample practice time will help you acclimate to this versatile tool. The more you use the Wave Tool, the more natural it will feel to use.
Utilization of the videos, photos, and instructional resources will enhance your effectiveness with the tool.
Use the tool on your hand, forearm and thigh to familiarize yourself with various pressures, grips, and surfaces.
Always use lotion on bare skin, or use in the shower, or over clothing. Some mild redness can be expected.
It is always a good idea to seek professional evaluation on your medical condition and education on edge and wavetool use for your particular injury.
Using the Wave tool
When using the edges, hold the tool at a 45 degree angle and push through the tissue (do not drag). Use the edge like a push broom or snow shovel, cutting through the poor quality tissue, while preserving the healthy tissue. The adhesions (knotted hair) are combed out, while the healthy tissue (smooth hair) passes under the blade without damage. Use the massage knob like a thumb, and the large massaging surface like a roller (gliding back and forth).
Treatment Parameters
Every injury is different, so each treatment needs to be specialized. Just as an exercise training plan accounts for rest and recovery, your tissue needs rest and recovery time as well. Do not overtreat! Treatments may be as often as every few days or as few as once a week depending on the acuteness and severity of the injury as well as the intensity of the treatment. In general, the more acute the injury, the gentler and shorter the treatment should be. With chronic injury and adhesions, use firm pressure up to 2-3 times a week. Treatments should last 5-20 minutes, and include 5-20 strokes each with the edge and massage surface. You may feel a bit of soreness during treatment, but there should not be any lingering pain. The videos are imperative for proper understanding and use.
Why Should You Choose a Wave Tool for your treatment plan? Here are a few reasons why:
Versatility
The Wave Tool is the ultimate soft tissue release tool. This all in one tool combines myofascial massage surfaces and IASTM edge technology to completely treat myofascial pain, fascial restrictions and adhesions. No other tool combines edge technology and massage features in one tool.
Performance
The wave tool has the optimal steepness of curvature in it's IASTM edges. This equates to more precise adhesion release. The combination of edge, massage and trigger point features allows the user to achieve better results during treatment.
Feel
Most IASTM tools on the market are two dimensional. This design is simpler to make, but the downside is that it is hard to feel the tissue restrictions and necessitates a firm grip on the tool. The Wave Tool feels warmer on the skin, and the 3-D ergonomic grips allow the user to hold the tool with a light comfortable hold, while gaining surface area and sensitivity. This enables the user to feel tissue restrictions and variations with ease, and to deliver superior treatment.
Affordability
The Wave Tool is significantly more affordable than most IASTM tools on the market.
Durability
Resistant to scratches and dings. Will not break. In fact, the more you love your Wave Tool, the more it will polish like stone, and love you back!
For more info please check out Wave Tool's Site Here